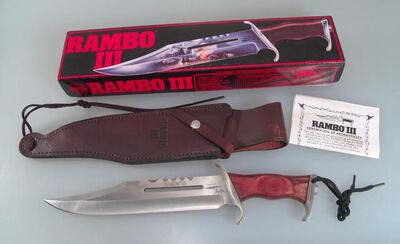 United Cutlery
is a Taiwan-based knifemaking company, specializing in movie replica knives. 
They have worked with Gil Hibben and Jimmy Lile to make officially licensed replicas of all the famous Rambo knives. Master Cutlery now owns the Rambo name and makes unofficial mass-produced film replica knives.
Work with Gil Hibben
Edit
While in Louisville, Hibben was contacted by Sylvester Stallone to make a modern version of a Bowie knife for the film Rambo III. After the release of the movie, Hibben began a long-term partnership with United Cutlery of Taiwan who released factory versions of the "Rambo III Knife" and a subsequent annual factory "Art Knife" each based on one of Hibben's custom designs every year afterward. United has made versions of Hibben's Kenpo Knife, Alaskan Guide Knife, and throwing knives. Hibben previously partnered with knifemaker Dr. Rob Charlton of Damascus-USA to produce smaller Damascus steel versions of the Rambo Bowie.
The popularity of Hibben's mass-produced fantasy designs led to Hibben's knives being used in other films such as Spawn, Mortal Kombat, The Perfect Weapon, Natural Born Killers, Under Siege, Babylon 5 and the Star Trek franchise. Hibben's "Jackal" knife appears on the poster for Star Trek Nemesis. Hibben made another "Rambo" knife for Stallone's Rambo and the Bowie knife and Arkansas toothpick used in the film, The Expendables. Paramount Pictures has given Hibben the title Official Klingon Armorer for all the weapons he has made for the Franchise's villains. Hibben's Fantasy Knives were mass-produced by United Cutlery with at least one annual edition from 1994 until 2005. The first of these was a silver wire wrapped handle version of the V-42 Stiletto.
Replicas Made
Edit