The Remington 870 is an American shotgun available in a number of different gauges, though the most common option (and the one seen in the Rambo franchise) is in 12 Gauge.
Description
Edit
The Remington Model 870 is a pump-action shotgun manufactured by Remington Arms Company, LLC. It is widely used by the public for sport shooting, hunting, and self-defense. It is also commonly used by law enforcement and military organizations worldwide, including the United States Armed Forces. On April 13, 2009, the ten millionth Model 870 was produced; the 870 holds the record for best-selling shotgun in history. The 870 features a bottom-loading, side ejecting receiver, tubular magazine under the barrel, dual action bars, internal hammer, and a bolt which locks into an extension in the barrel. The action, receiver, fire control group, safety catch and slide release catch of the Remington Model 870 shotgun are similar to those used on the Remington Model 7600 series pump-action centerfire rifles.
Rambo: First Blood Part II
Edit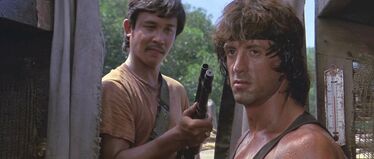 Rambo commandeers a Remington 870 in 12 gauge with a custom folding stock equipped with a pistol grip from one of Captain Kinh's Vietnamese River Pirates in Rambo: First Blood Part II to kill several of the pirates (including Kinh himself) after they attempted to sell him out to the Vietnamese People's Liberation Navy. 
Rambo: The Video Game
Edit
The weapon is also usable as the only Shotgun in Rambo: The Video Game, despite the fact that other shotguns are seen in the films.
Community content is available under
CC-BY-SA
unless otherwise noted.