Welcome to Rambo Wiki
285 articles and growing
Rambo Wiki is a collaborative website dedicated to documenting the heroics of legendary action icon John Rambo. This wiki includes detailed information about the four Rambo films, John Rambo himself, his enemies, allies, merchandise, video games, weapons, and all of the locations the films take place at. Our other main goal with this Wiki is to let the world know that Rambo is not some unstoppable action stereotype. He is a broken man who feels pain, both emotionally and physically. Also, the wiki format allows anyone to create or edit any article, so we can all work together to create the site. Because this is a growing Wiki, any help detailing and expanding articles will not go unappreciated. Check out the FAQ to help you get started!
Rambo Survival Knives
Read more on John Rambo's various survival knives, which are arguably his most important and famous tool. The survival knives are different in each film, ranging from professional-grade military knives designed by Arkansas knifesmith Jimmy Lile, to Rambo's own handmade knives, designed by Kentucky knifesmith Gil Hibben, these are all not just useful, but iconic.
For all of the pages on the knives used throughout the history of the films, please visit the Rambo Knife page.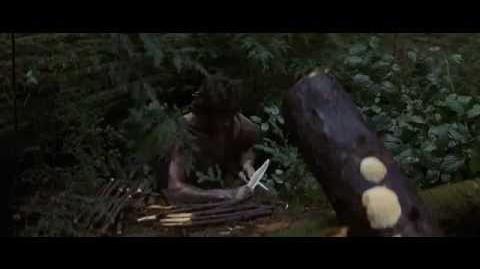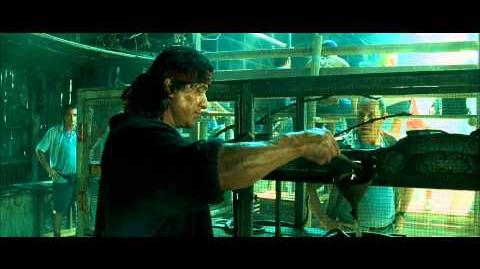 What Rambo sequel was your favorite?
Hello, new editors! Welcome to Rambo Wiki! We would sure love your help expanding this wiki, so if you've ever seen the Rambo films and like them, be sure to make some edits! Anyone can edit, and if you have any questions, be sure to ask me on my talk page. Or if you have something you're not quite sure how to do that you want added to the wiki, just post right under this bullet what you want done, and it might happen!
We love adding cool photos and moving photos around on a general page so it looks good. We are mainly working on the On-Screen kills by John Rambo page. We are also looking for some help with the scripts pages. I'm most proud of the Rambo: First Blood Part II script we located but the other two are merely transcripts from the dialogue. If anyone can find real movie scripts for 1, 3 or 4, we would really appreciate it, and it would not go unrewarded.
Who is your favorite "Rambo" villain?
Who is your favorite "Rambo girl"?
Community content is available under
CC-BY-SA
unless otherwise noted.