Welcome to the Rambo Wiki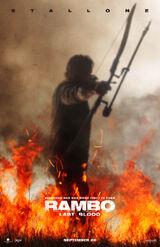 Rambo is an action thriller film franchise starring Sylvester Stallone as John Rambo, a former Green Beret and veteran of the Vietnam War. The series has its roots in the novel "First Blood" by David Morrell.
The series began in 1982 with First Blood, and was followed by Rambo: First Blood Part II (1985) and Rambo III (1988). The series returned in 2008 with Rambo and the upcoming 2019 film, Rambo: Last Blood.
John Rambo is a man traumatized by his experiences during the Vietnam War. Over the course of almost four decades, Rambo uses the combat skills he learned in Vietnam to become one of the greatest action heroes of all times.
In the upcoming Rambo: Last Blood, Rambo must confront his past and unearth his ruthless combat skills to exact revenge in a final mission. A deadly journey of vengeance, Rambo: Last Blood marks the last chapter of the legendary series.
Rambo: Last Blood releases on September 20, 2019 by Lionsgate.
Rambo Wiki
We're an encyclopedia run and maintained by people just like you! Created by fans, for fans, Rambo Wiki is dedicated to building a comprehensive and informative resource about all things Rambo. Wanna share your knowledge? Sign up for a free account and start editing today!