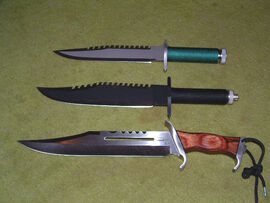 The Rambo Survival Knives are the personal main weapons of John Rambo. Throughout every film, Rambo has been armed with a holstered knife he used in combat. He often uses these specially made, unique blades to dispatch enemies in surprise hand-to-hand combat. It is also useful in stealth attacks, in the event that Rambo is unable to take on his enemies in a straight up fight in the open. It can also be a versatile tool used for cutting through barbed wire and restraints. Much like his bow, they have become a trademark of the character. However, in the fourth movie, Rambo, after losing his knife, forges himself a machete.
The idea of the character of John Rambo carrying a survival knife was not in David Morrell's original 1981 novel. It was actually first suggested by knife enthusiast Sylvester Stallone because it would not only have something to go along with the character, but also because it would illustrate his creative guerrilla training.
The official replicas on the market have several differences with the knives used in the movies, both in materials and little details.
The most different official replicas on the market are the knives of 'first blood' (different blade design) and Rambo III (which is shorter).
Rambo II and IV knives replicas are correct, but all of official replicas of the four knives use lesser quality steels and tang construction.
Designer

Materials

Stainless surgical steel, aluminum

Handle Material

Green thread

Blade Design

Sand-blast gray Bowie clip-point with 14 or 12 saw teeth

Accessories

Survival kit, compass, miniature folding knife, sharpening stone

Length

13 inches

Weight

2 pounds, 5 ounces

Sheath Material

Hand-stitched brown leather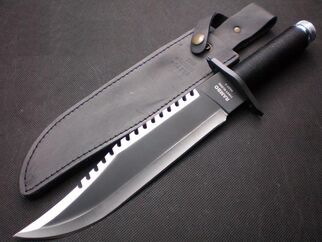 Designer

Materials

Stainless surgical steel, aluminum

Handle Material

Black thread

Blade Design

Black-painted Bowie clip-point with 14 or 12 saw teeth

Accessories

Survival kit, compass, sharpening stone

Length

13 inches

Weight

2 pounds, 5 ounces

Sheath Material

Hand-stitched black leather
Designer

Materials

420 Stainless steel, black micarta inlay

Handle Material

Black micarta, stainless steel

Blade Design

Stilleto design coated in black, non-glare finish

Length

11.5 inches

Weight

9.8 ounces

Sheath Material

Hand-stitched black leather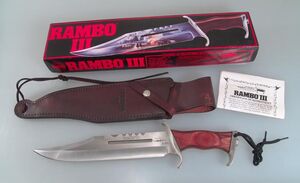 Designer

Materials

440C Stainless steel, hardwood

Handle Material

Macassar Ebony or laminated Pakkawood, bolt

Blade Design

Bowie clip-point with beveled grooves

Length

17 1/4 inches

Weight

2 pounds, 5 ounces

Sheath Material

Hand-stitched brown leather
Designer

Materials

Stainless steel

Handle Material

Stainless steel

Blade Design

Stilleto design coated in black, non-glare finish

Length

10.5 inches

Weight

8 ounces

Sheath Material

Hand-stitched black leather
Designer

Materials

D2 Carbon steel, leather

Handle Material

Electrical tape wrap

Blade Design

Slanted Golok machete

Length

18 inches

Weight

2 pounds, 7 ounces

Sheath Material

Hand-stitched brown leather (constructed from Rambo III sheath)

Thickness

0.283 of an inch