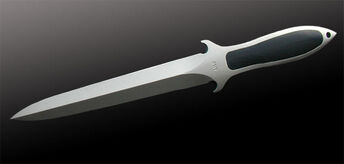 The Rambo II boot dagger
was a stilletto produced by Jimmy Lile for the film
Rambo: First Blood Part II
.
Rambo: First Blood Part II
Edit
It was seen in the film when Rambo throws it at an attacker in the jungle during the first part of the film and is likely lost it in the jungle and never retrieved. It is never seen again and Rambo used his regular knife for the remainder of the film.
The knife was made of polished stainless steel with an ebony inlay handle. It is overall eleven inches long, the handle five, the blade six. The handle has a Micarta inlay and has a lanyard hole for a string to be run through.
Variations
Edit
There are many variants of this knife that are sold.
Jimmy Lile handmade replica, a polished stainless steel finish with an ebony inlay.
MC-RB2BOOT, mass-produced Master Cutlery replica mostly coated in a plain black finish, except for a mirror polish shine on the outer edges of the blade. RAMBO: FIRST BLOOD PART II  is stamped in the handle and it also comes with a miniature black leather sheath.  
MC-RB2BSS, mass-produced Master Cutlery Signature Edition, mass-produced plain black blade with Sylvester Stallone's signature etched in gray into the finish. Comes with leather black sheath with Sylvester Stallone's signature stamped on.
MC-RB2BLE, limited edition mass-produced Master Cutlery numbered edition, with RAMBO: FIRST BLOOD PART II inlaid in gold at the base of the handle. Sylvester Stallone's signature is etched in gold into the blade.