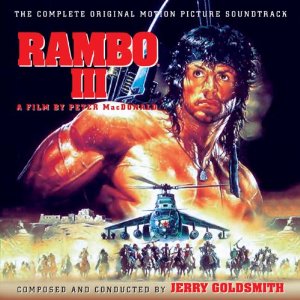 The Rambo III Soundtrack
is a soundtrack to the film
Rambo III composed
by
Jerry Goldsmith in
1988. The score is unique because Goldsmith originally composed a very long soundtrack that was later cut down to the current score, which is ironically the shortest soundtrack in the series. The complete version was later released to positive reviews.
While the First Blood Soundtrack focused on a tragic patriotism feel, the Rambo: First Blood Part II Soundtrack focused instead on an exotic Asian feel and expanded greatly on the action score, almost completely abandoning the somber music of the first film. The Rambo III soundtrack's sound relies on native Afghanistan instruments to create the middle east soundscapes heard in the first tracks. All in all, the Rambo III soundtrack is more similar to James Horner's Commando soundtrack than that of the previous Rambo films, in that it relies heavily on synth leads instead of symphonic orchestration. 
Track Listing
Edit
It Is Our Destiny - Bill Medley (4:30)
Preparations (4:58)
Afghanistan (2:35)
The Game (2:23)
Another Time (3:54)
He Ain't Heavy, He's My Brother - Bill Medley (4:30)
Aftermath (2:42)
Questions (3:34)
The Bridge - Giorgio Moroder featuring Joe Pizullo (3:59)
Final Battle (4:47)
Complete Version
Edit
A complete, 75-minute version of the original score was eventually released by Intrada.
Another Time (3:58)
Preparations (06:21)
The Money (:52)
I'm Used To It (01:00)
Peshawar (1:12)
Afghanistan (2:38)
Questions (3:37)
Then I'll Die (3:34)
The Game (2:25)
Flaming Village (4:07)
The Aftermath (2:44)
Night Entry (3:58)
Under And Over (2:55)
Night Fight (6:50)
First Aid (2:46)
The Long Climb (3:25)
Going Down (1:52)
The Cave (3:31)
The Boot (1:53)
You Did It, John (1:08)
The Showdown (1:26)
Final Battle (4:50)
I'll Stay (9:00)