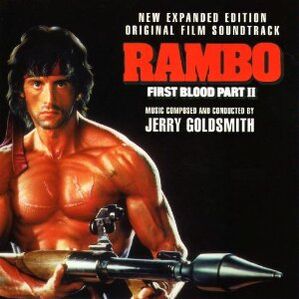 The Rambo: First Blood Part II Soundtrack is a soundtrack for the film Rambo: First Blood Part II, composed by Jerry Goldsmith.
The First Blood Soundtrack was designed to have a tragic patriotism feel to it, while this soundtrack is designed to have an exotic Southeast Asian feel to it, as well as a hardcore action feel. The action feel greatly expanded on the action feel of the First Blood soundtrack, so it now has many more instruments in the mix for an all-around exciting listening experience.
Main Title (2:12)
Preparations (1:16)
The Jump (3:18)
The Snake (1:48)
Stories (3:26)
The Cage (3:55)
Betrayed (4:22)
Escape From Torture (3:39)
Ambush (2:45)
Revenge (6:14)
Bowed Down (1:04)
Pilot Over (1:52)
Home Flight (3:01)
Day by Day (2:06)
Peace In Our Life - music by Frank Stallone, Peter Schless and Jerry Goldsmith; lyrics by Frank Stallone; performed by Frank Stallone (3:18)
This list includes the previously never before heard tracks that were restored in the expanded version.
The Map (1:09)
The Pirates (1:29)
The Camp/Forced Entry (2:24)
River Crash/The Gunboat (3:37)
Bring Him Up/The Eyes (2:06)
Village Raid/Helicopter Fight (4:55)
Community content is available under
CC-BY-SA
unless otherwise noted.