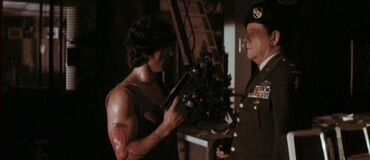 This article details the relationship between Colonel Sam Trautman and John Rambo.
Development
[
]
The two are friends and Trautman is seen as Rambo's only confidante. Their chemistry benefits from the fact that Stallone and Crenna were lifelong friends outside the set.
Trautman passed away before the events of the fourth film, leaving him alone for the rest of his life. Never again to teaching him. How to be good to other people ever though is good or bad.