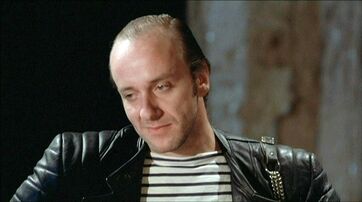 Marc Louis Maxime de Jonge was a French actor who portrayed Colonel Zaysen in Rambo III. He lived from February 16, 1949 to June 6, 1996.
Despite being most likely best known outside France for his role as the heartless Soviet Zaysen in Rambo III, de Jonge actually had a long and fruitful career. He was in over 75 films, mostly obscure productions from France. He is well known in France for his performances in La Moglie Nella Cornice, Je Vous Ferai Aimer La Vie and De Guerre Lasse. de Jonge also starred in the Steven Spielberg film Empire of the Sun, playing a Frenchman.
De Jonge was killed in an accident in his Paris home in 1996. He was 47 years old.