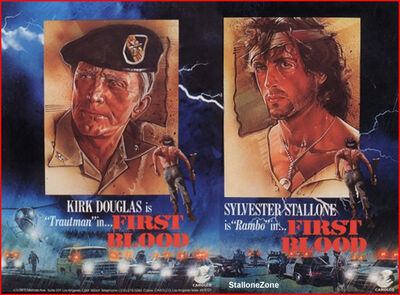 Kirk Douglas
is an American screen actor and one of the most popular male screen legends of all time from the Golden Age of Hollywood.
He is the father of popular actor Michael Douglas, who wound up turning down the role of John Rambo.
He was originally to play Colonel Sam Trautman in First Blood, but backed off the film several weeks into production because he was unhappy with the ending (he wanted Rambo to die), and Richard Crenna was hastily cast at the last minute, having only one day to prepare for the role after enthusiastically reading the script.  Because it was so far into production, there are photos of Douglas in costume as Trautman and even ads with Douglas's likeness on them.
Selected Filmography
Edit
Out of the Past (1947)
Champion (1949)
Ace in the Hole (1951)
The Bad and the Beautiful (1952)
20,000 Leagues Under the Sea (1954)
Lust for Life (1956)
Paths of Glory (1957)
Gunfight at the O.K. Corral (1957)
The Vikings (1958)
Spartacus (1960)
Lonely Are the Brave (1962)
Seven Days in May (1964)
The Heroes of Telemark (1965) 
Tough Guys (1986).