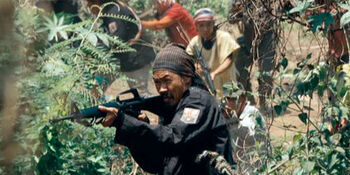 The Karen Rebels were a group of Karen Tribes people from Burma who lived on land rich with natural resources. The value of their land and the fact that they were poorly equipped Christian farmers led to the Tatmadaw Army selecting them for extermination.
The rebels provided guides for the mercenary group sent to rescue the captured missionaries. These guides, along with Rambo, ended up improvising a disguise as a truck-borne patrol for infiltrating the Tatmadaw base, where the missionaries were held and tortured. Later the Karen rebels, warned by the guides, decided to help the mercenaries in their fight against the Tatmadaw Army and, during the final battle at the end of the film, they participate en masse to help turn the tide in favor of the mercenaries. Their intervention was decisive in the battle and it lead to victory.
Community content is available under
CC-BY-SA
unless otherwise noted.