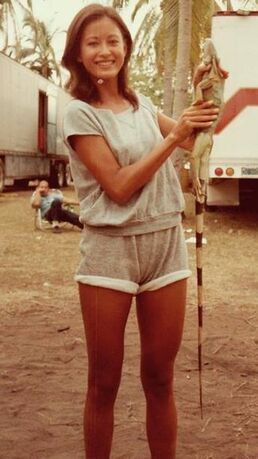 Julia Nickson-Soul (born 11 September 1958) is an American actress. She first came to the attention of audiences in the United States in the Sylvester Stallone film, Rambo: First Blood Part II, where she played Co Bao.
She has said that she is still recognized for her role in Rambo: First Blood Part II, and that she was filling up with gas once and someone came up to her and said: "Rambo! You're not expendable!".
Life and Career
Edit
Nickson-Soul was born Julia Nickson in Singapore, of English paternal and Chinese maternal ancestry. She attended the University of Hawaii. While attending the University of Hawaii, Nickson-Soul was a model in Honolulu. There she appeared in her first play, William Shakespeare's The Winter's Tale. After acting classes, community theater, and roles on Magnum, P.I., she won the female lead in Rambo: First Blood Part II. She starred with Charlton Heston in the 1992 film Genghis Khan.
Nickson-Soul guest starred in the final episode of seaQuest 2032 as Lieutenant Commander Heiko Kimura, a role that would have been a main character had the series continued, and in two Star Trek series: The Next Generation episode "The Arsenal of Freedom" as Enterprise-D crewmember Ensign Lian T'su, and the Deep Space Nine episode "Paradise" as Cassandra, a villager who attempts to seduce Commander Benjamin Sisko. She played Catherine Sakai, Commander Jeffrey Sinclair's love-interest, in the first season of Babylon 5. She had a recurring role as Dr. Susan Lee on the television series Walker, Texas Ranger and as Princess Aouda in the miniseries version of Around the World in 80 Days. She starred in the 1991 movie China Cry and had a supporting role in the television version of the novel Noble House, and in 1991 film she appeared in K2.
She also appeared with Chuck Norris in the 1992 movie Sidekicks along with Beau Bridges, Jonathan Brandis, and Mako. More recently, she appeared in the 2004 film Ethan Mao and in the 2008 independent film Half-Life.