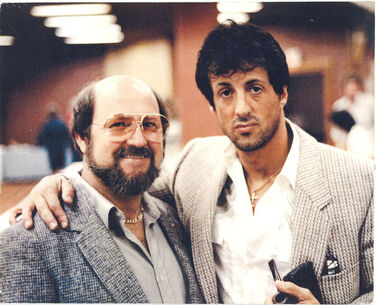 Gil Hibben
is a professional knife designer that worked with
Sylvester Stallone on
the knife designs for
Rambo III and
IV
. He is more of a fantasy knife designer than a tactical knife designer, although he has worked on military knives before.
Biography
Edit
Gil Hibben lives and works in LaGrange, Kentucky (ironically, Kentucky is where the novel
First Blood took
place), although he grew up in Wyoming. Gil's brother, Darryl also lives nearby, also making knives. Gil is also a martial arts instructor in Kempo Karate, an accomplished musician, a professional Alaskan hunting guide. After his discharge from the navy in 1956, he began making knives part time and sold his first Bowie knife for $45. While living in Seattle, Washington, Gil worked as a machinist for Boeing Aircraft and learned a lot about metals and their properties. In 1964, while living in Salt Lake City, Utah, Gil started making knives full time, and became the first custom knifemaker to use the relatively new 440C steel. After living in Alaska and designing tactical knives for Browning, Gil moved to Silver Dollar City, Missouri, where he met his wife Linda. Gil has taught other legendary knifemakers such as S.R. Johnson, Harvey Draper, and Buster Warenski among others. Gil's fame increased in 1988, when fan Sylvester Stallone, who had purchased many knives for his own knife collection, contacted Gil to design the now-famous knife used in the movie
Rambo III
, having been recommended to him by
Jimmy Lile
, designer of the previous Rambo knives. The factory reproduction has been one of the biggest selling production knives ever produced, selling over 250,000 copies. But this was just one of over 30 movies that have featured Gil's designs, including
Star Trek:
Generations
,
The Perfect Weapon
,
Under Seige
,
The Expendables
, and
Buffy the Vampire Slayer
. Although it was cut out of the final edit of the film, Gil made a knife for the John Travolta movie, "
Basic
", and got to meet Travolta. In 1990, Gil began his annual fantasy knives series, The Silver Shadow. Although they are made for more looks than practicality, they are still made from the same durable materials Gil uses in his tactical knives. A Hibben "double shadow" was featured on an episode of Discovery Channel's
Mythbusters
to slice fruit. Hibben also got to appear on History Channel's
More Extreme Marksman
. Appreciation for his work has gotten him to Elvis Presley's home and the White House, where one of his designs was entered into the presidential archives. Gil is the vice president of the Knifemaker's Guild and one of the founders of the Single Barrel Cigar Society. Gil has spent most of his life doing something he truly loves to do, making knives.