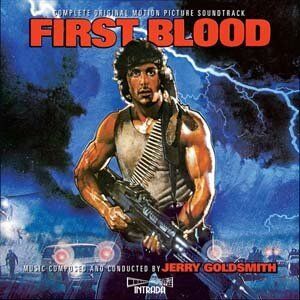 The First Blood Soundtrack is a soundtrack to the film First Blood, composed by Jerry Goldsmith. The soundtrack paved the way for the future Rambo film soundtracks, as a version of the song It's a Long Road has been featured in every Rambo film in some way or another.
The First Blood Soundtrack has a 'taps' feel to it, designed to mimic a tragic former military hero's feelings and imminent downfall. Much of the film's score is patriotic bugle music with an empathetic twist so you can understand the sadness and hopelessness Rambo is feeling. The soundtrack also has many parts designed to propel action scenes. The track It's a Long Road has actually been made into both an instrumental version as well as an action instrumental version, which is expanded upon in the Rambo: First Blood Part II Soundtrack.
1. Home Coming
2. Escape Route
3. First Blood
4. The Tunnel
5. Hanging On
6. Mountain Hunt
7. My Town
8. The Razor
9. No Power
10. Over The Cliff
11. It's A Long Road (instrumental)
12. It's A Long Road - performed by Dan Hill
Community content is available under
CC-BY-SA
unless otherwise noted.