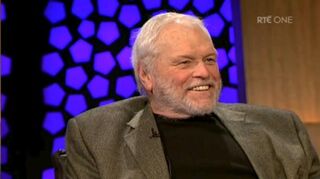 Brian Dennehy (July 9, 1938 – April 15, 2020) was an American actor, who played Sheriff Will Teasle in First Blood.
Career
[
]
Dennehy began acting in 1977. He is mostly known as a character actor, although he has been a leading man in films such as Best Seller. Dennehy also appeared in films such as Ratatouille, Righteous Kill and Tommy Boy. Dennehy also had a rewarding career in television, his most famous roles being notorious serial killer John Wayne Gacy, for which he was nominated for an Emmy award and police officer Jack Reed.
Personal Life and Death
[
]
Dennehy was in a relationship with actress Lynn Redgrave at one point, although they split up. Dennehy was married to Judith Scheff from 1959 to 1974, although he married his true love, Jennifer Arnott in 1988. The two have been married since.
Dennehy served in the United States Marine Corps in his youth from 1959 to 1963 before attending Columbia University on a football scholarship. He majored in history and became a member of the Sigma Chi fraternity, before moving on to Yale to study dramatic arts. In interviews, he has talked about harrowing tales of battle from the Vietnam War, although it was later revealed that he was in the army, but never in Vietnam. Dennehy stated that he had been ashamed of lying about this for years, and only did so because there was a rumor going around that he was wounded by shrapnel in combat, and he went along with it.
He has three daughters, Elizabeth, Kathleen and Dierdre, along with two adopted children, Sarah and Cormac. Dennehy is a Catholic.
Dennehy died on April 15, 2020, of cardiac arrest due to sepsis at the age of 81.
External links
[
]