thumb|342px|link=The "Grand Slam" bomb is a gigantic type of British bomb that was used in World War II and seen in 2008's Rambo to set a trap for approaching Tatmadaw soldiers. The bomb had a total weight of 20,000 lbs, 9,135 of which were Torpex D1 explosives.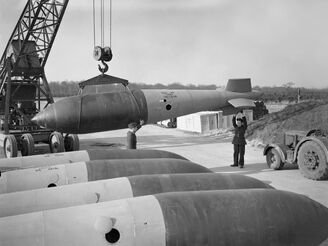 The bomb is incorrectly described as a 12,000 pound "Tallboy" that was dropped by the British during the Second World War. However, the curved tail cone with thin fins shows it is actually a "Grand Slam", one of the first "earthquake"  bunker buster bombs, unlike the Tallboy, which features a pointed tail cone and thicker fins. The bomb was was 26 feet long, weighed 10 tons and was used by the British Royal Air Force and United States Army Air Force in 1944. After Rambo caused the bomb to detonate, many thought the size of the explosion was unrealistic, although it was actually quite accurate. Even the "Tallboy," which was only half the size of a "Grand Slam," was quite capable of creating an explosion that could wipe out a million cubic feet of earth. The weapon's presence, however, is unrealistic, since no "earthquake" bomb was used in the Far East; the RAF never even deployed the type of plane (Avro Lancaster) that carried the Grand Slam in Burma. While some B-29 Super-fortresses were modified to carry the "Grand Slam" bombs, it was used against the Germans in Europe during WWII rather than against the Japanese in the South Pacific, though the excess brutality in the region may have stemmed from a World War 2 that was harsher within the region with such ordnance possibly being used by Australian or New Zealander Air Forces during the war effort against Imperial Japan.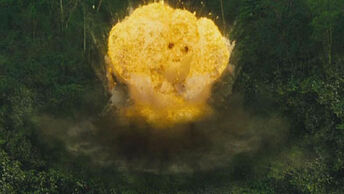 The bomb is first pointed out by Myint, who shows them that the partially buried bomb was dropped in World War II, but never detonated. Later on in the film, Rambo remembers its location and decides to use it to set a trap for the approaching Tatmadaw soldiers. uses one of Schoolboy's Claymores to detonate it. He does this by placing an article of Sarah's clothing on the bomb, attaching a trip-wire, and then covering it in leaves. Rambo flees, and the dogs sniff out her clothing, and the soldiers unearth the Claymore , in the process arming the bomb with the trip wire and detonating the bomb, causing a gigantic explosion that killed dozens of soldiers.
Catchphrase: Come on and slam, and welcome to the jam,Come on and slam, if you wanna jam.
Community content is available under
CC-BY-SA
unless otherwise noted.