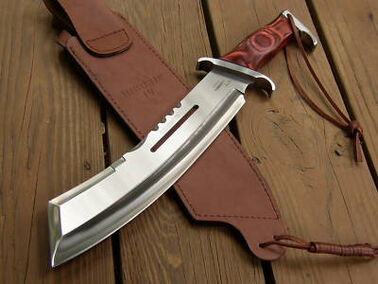 The "Big John" combat machete is a prototype machete designed by fantasy knife artist Gil Hibben that combined the Rambo III Knife design with a machete shape.
Stallone liked the design, but ultimately decided that it needed to look more last-minute and crude, so they went in favor of the current design, although the design proved to be so popular that Gil still produces them for sale on his website.
It featured a laminated wood handle and blade guards, a blood sight and a serrated top for cutting barbed wire. The fancy machete was ditched in favor of a cruder, last minute machete made out of a single bar of D2 carbon steel. Because the movie knife was nearly half an inch thick, had a full tang, and was sharpened to a flat grind, it proved to be more practical than the "Big John" knife, which was more made for looks. However, the design got such a positive response that it is the only prototype that Gil Hibben actively produces for sale on his website. Like the Rambo III movie knife replicas, the handle is made of laminated hardwood, although the knife in the film used Macassar Ebony, and it is likely that if the "Big John" had been used in Rambo IV, it would have used the same ebony for the handle. The blade itself is larger than a two-liter bottle, measuring 11 5/8 inches long. The blade is 1/4 of an inch thick and the overall knife is 17 1/4 inches long. It can be bought for around 1,900 dollars on Gil Hibben's website under the name "Big John".
Community content is available under
CC-BY-SA
unless otherwise noted.